Dota 2 is an incredibly competitive game that can sometimes lead to frustration when things don't go according to plan. But letting your emotions take over can have negative consequences, such as being reported by your teammates, and subsequently reducing your behavior score. A low behavior score can lead to a variety of issues, including long times to find a match and having people with similar behavior scores in your team.

If you're determined to increase your Dota 2 abilities, maintaining good behavior scores will be important. To help you in this endeavor, here are five valuable tips to help improve your behavior score in Dota 2.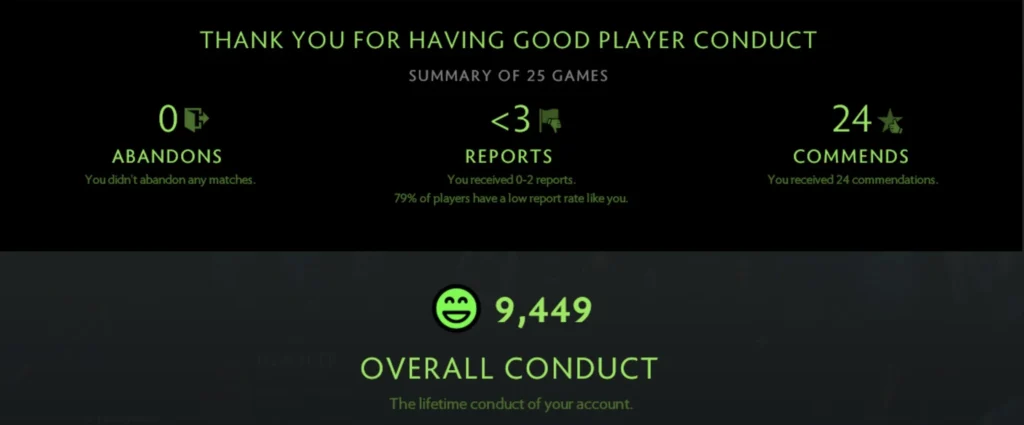 Tip 1: Choose Behavior Score Boosting
Behavior score boosting services help players to improve the behavior score by just purchasing it from a boosting website. Our website is also providing this service. All you have to do is select the number of points that you need to add in your account and place order. You just have to make sure that you enter the correct account details at the checkout page. By doing so, the booster will use your account and play on it. Increasing behavior scores is not that easy and that is why we have hired professional boosters to get the job done. Booster will play Turbo games to improve the summary. After every 15 games, the summary is updated and if the behavior is kept good, approx 500-700 points are added to the account.
Being a team player is crucial when it comes to improving your behavior score in Dota 2. It involves effective communication with your teammates, supporting them in lane, and making strategic calls that contribute to the team's success. Additionally, it requires understanding and refraining from blaming or flaming teammates when things don't go as planned.
To enhance your team-playing skills, consider the following tips:
Communicate clearly and respectfully: Use concise language when communicating with your teammates and avoid using chat to flame or blame them.

Support your teammates in lane: Engage in activities like pulling creeps, ganking, and warding to assist your teammates in winning their lanes.

Make beneficial calls: Take initiative by calling for ganks, objectives, and strategies that contribute to the team's victory. Also, be open to listening to your teammates' suggestions.

Show understanding during setbacks: Remember that everyone makes mistakes. Instead of getting angry or frustrated with your teammates' errors, offer constructive feedback and help them learn from their mistakes.
Tip 3: Don't Flame and Feed
Flaming and intentionally feeding are detrimental behaviors that can harm both gameplay experience and behavior scores in Dota 2. To avoid these behaviors:
Take breaks when emotions run high: If you find yourself feeling angry or frustrated, it's best to take a break from Dota 2 rather than venting at or intentionally feeding your teammates.

Focus on self-improvement: Rather than fixating on others' shortcomings, concentrate on enhancing your own gameplay skills for personal growth.

Foster positivity and supportiveness: Encourage your teammates and maintain a positive environment within games by showing support towards one another; this will reduce the likelihood of engaging in flaming or feeding behaviors.
Tip 4: Commending Players
Commending fellow players not only acknowledges their contributions but also boosts behavior scores:
Commend good plays: Whenever you witness a teammate executing an impressive move, commend them for their skillful play—this gesture boosts morale and encourages continued excellence.

Commend friendly and supportive behavior: Recognize teammates who exhibit friendliness and supportiveness, as this helps cultivate a positive atmosphere during games.

Commend at the end of the game: Even if your team doesn't secure victory, take a moment to commend your teammates for their dedication and effort throughout the match—expressing gratitude goes a long way. They might commend you back even if you haven't played well leading to a good addition in your behavior score.
Tip 5: Playing Turbo mode
Playing Turbo mode can be an effective strategy to improve behavior scores in Dota 2 due to its shorter duration:
Prioritize winning: Although Turbo mode offers a faster-paced experience, it's essential to maintain focus on achieving victory. This mindset facilitates skill growth and increases commendations received.

Commend teammates: Acknowledge exceptional plays and display appreciation for friendly and supportive behaviors among your teammates—this positively impacts behavior scores while fostering a harmonious gaming environment.

Report rule-breaking players: If you encounter individuals intentionally feeding, flaming, or cheating, report them promptly—doing so contributes to upholding fair play standards for everyone involved.
Tip 6: Playing with Friends
It's always great to commend your friends for their friendly and supportive nature. This not only creates a more positive environment in your games but also strengthens your bond with them.
However, it's important to remember that even if they are your friends, you should report them if they break the rules. Whether it's flaming, feeding, or cheating, reporting such behavior helps maintain a clean and fair game for everyone involved.
Here are some additional tips to enhance your gaming experience:
Muting toxic players: In case someone is being toxic in the chat, it's best not to engage with them. Simply mute them and move on. By doing so, you can avoid getting angry or frustrated while ensuring a clean chat environment for others.

Reporting rule-breakers: If you witness intentional feeding, flaming, or cheating by any player, make sure to report them promptly. This ensures that the game remains fair and enjoyable for all participants.

Patience is key: Improving your behavior score takes time and effort. Don't be disheartened if you don't see immediate results. Keep playing positively and being a supportive player, and eventually, your behavior score will improve.
By following these tips diligently, you can significantly enhance your behavior score in Dota 2 while fostering a positive and supportive gaming community. Additionally, here are some extra pointers that might come in handy:
Familiarize yourself with the game mechanics: The better understanding you have of the game itself, the less likely you are to make mistakes that may frustrate your teammates.

Respect your teammates' opinions: Even when disagreements arise during gameplay discussions or strategies, maintaining respect goes a long way.

Remember to have fun! Ultimately Dota 2 is meant to be an enjoyable experience; so prioritize having fun while staying positive and supportive throughout the game.
Make sure to maintain a good behavior score through these tactics as a good behavior score leads to good teammates which in term leads to good communication leading to wins!