Collapse makes Magnus look absolutely broken at Dubai LAN
Magomed "Collapse" Khalilov is reminding the world–again–why Magnus is his most feared hero.
In a match against Nigma Galaxy in the Gamers Galaxy Dota 2 Invitational Series Dubai 2022 LAN event, Team Spirit elected to pick Magnus. The 20-year-old promptly returned their faith by putting in a show-stopping performance that helped Team Spirit win the game and keep their playoff hopes alive.
But even a player as talented as Collapse couldn't do it himself. Rushing a Helm of the Dominator and with a trusty Dark Troll Summoner and Skeleton Warriors by his side, the offlaner's level seven Magnus outfought Nigma Galaxy's level eight Chaos Knight and level six Disruptor.
How Collapse Magnus Turned a Gank Around
When faced with a one versus two situation, most players would be forgiven for trying to immediately escape, especially since his Skewer was available. Instead, Collapse displayed incredible presence of mind and awareness of his own (and the Dark Troll's) strength.

Instead of running away, his Dark Troll immediately began poking at the Chaos Knight. Despite stunning the Magnus, iLTW lost about 20 percent HP, going down to half health. Collapse stood his ground and turned to right-click the Chaos Knight, and realized that iLTW was losing health faster than he was.

In a situation as tight as this, every little bit counted. Collapse's Chipped Vest was returning damage to the Chaos Knight. Both the Dark Troll Warlord and Magnus were benefitting from multiple stacks of Rally, the summoned Skeleton Warriors' new ability given in 7.31. Each stack gave three damage, providing a consistent boost to the duo's right click even when the Skeletons themselves were whacking away at the tower.

Collapse, recognizing that he had a play opportunity here, even turned to Empower the Dark Troll Summoner midway through the fight. He then used Reverse Polarity to stun the Chaos Knight, followed by a quick Skewer to interrupt any actions, and a Shockwave to finish it off. iLTW managed to get a desperate Chaos Bolt off, stunning Collapse—but in poetic fashion, it was the Dark Troll Summoner to claim the last hit and the kill.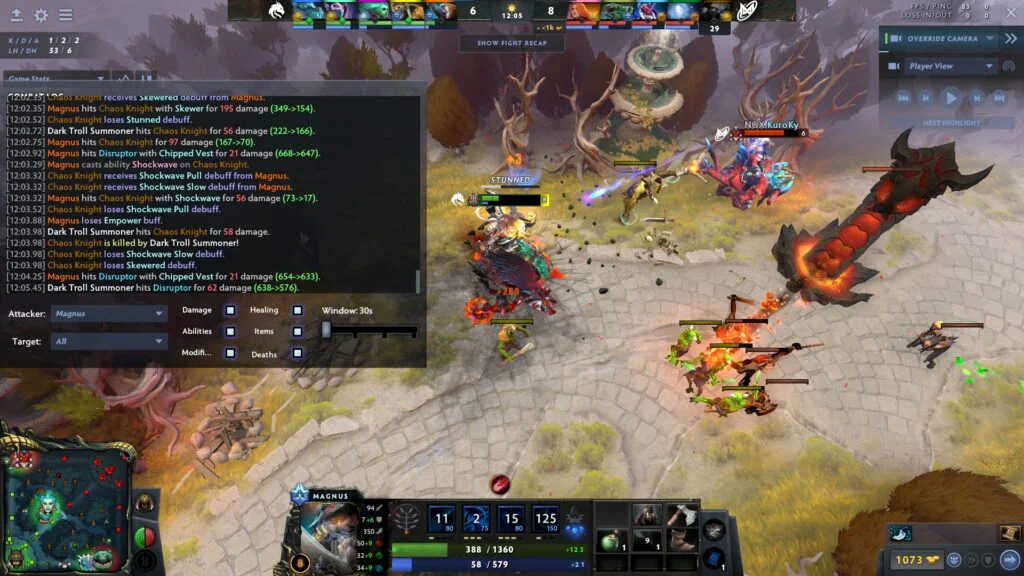 Meanwhile, captain Kuro "KuroKy" Salehi Takhasomi could only watch, with all his spells already on cooldown, while his carry died. The then-dominating Chaos Knight gave a sizeable bounty to Collapse, and truly signaled the beginning of the slide for Nigma. Team Spirit, buoyed by the momentum, seized the chance to hand Nigma their first loss of the tournament.

If Spirit had lost, they would have been out of the running for a direct upper bracket seed at the Gamers Galaxy Dubai Invitational, needing another play-in to qualify for the playoffs.

Instead, they are now 2-2, while Nigma's 2-1 record means they need to win against the undefeated Tundra Esports or face tiebreakers.