Right before the last day of matches at TI 12 kicked off, they introduced The Ringmaster. Dota 2 fans were blown away by the awesome teaser video for the new hero. Even though we don't have all the details yet, folks can't stop talking about this character with the circus theme. Fans are super excited and speculating about what this hero can do and how it might shake up the game.
A New Performer: The Ringmaster
The Valve trailer for The Ringmaster reveals some intriguing insights into the character's backstory. The Ringmaster is the owner of a traveling circus and is on a mission to recruit more heroes to be part of his troupe. To achieve this, he seems to resort to some rather shady tactics like kidnapping and coercion to get these heroes under his big top. In the video, we witness Axe, a well-known Dota 2 hero, being enticed into a strength test, ensnared in a contraption, and then whisked away, presumably to join the circus.
While the trailer doesn't spill the beans on The Ringmaster's specific abilities, it strongly suggests that he's a support character, primarily focused on stunning and possibly manipulating his adversaries. Keeping with the circus theme, his powers might involve gadgets that can temporarily trap opponents or compel them to perform circus-themed feats.
Up to this point, here's what we've gathered about The Ringmaster: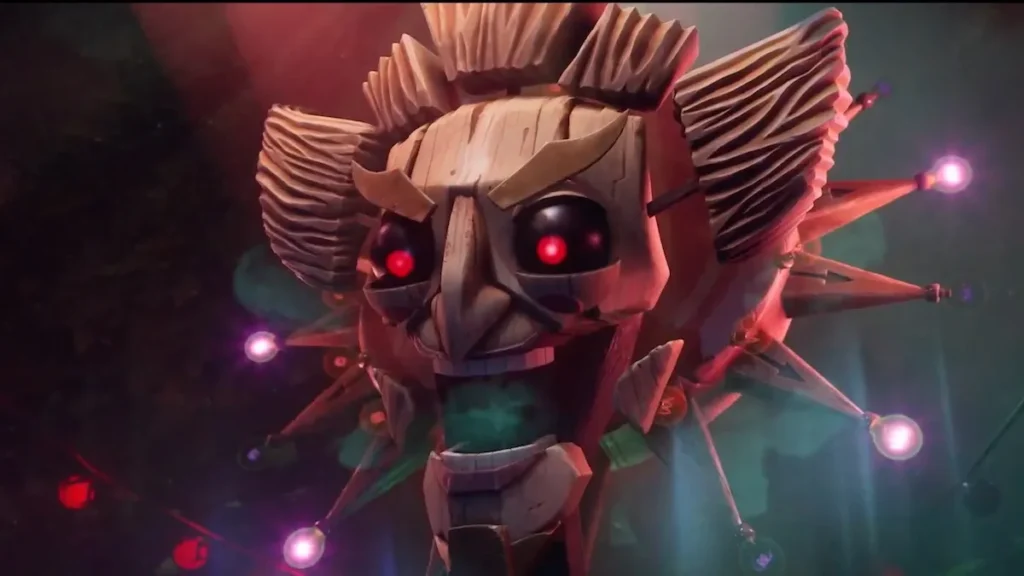 There is currently just a broad time frame during which this hero may be expected to be made available. The trailer closes with a short message informing gamers of when they may anticipate his release: "2024: No hero is safe." The year 2024 is a wide window, and it is still unknown whether this will occur in the spring or autumn. Since we didn't see this hero in action, he must still be under development.
A New Performer: The Ringmaster
In the promo video, they talk about how heroes can influence others through training and claim they're born to perform. In Dota 2, when characters say they're under control, they can pick from different in-game responses. One hero even jokes, 'I don't see any strings.' Here are a few examples:
Take HoN Puppet Master's Ringmaster Talents:
An earlier leak of Dota 2 files that included several hero designs has been confirmed as accurate. Among them were references to Primal Beast, Muerta, Hoodwink, and other heroes, although they went by different names. Notably, Puppet Master, possibly inspired by a character from Heroes of Newerth, took the place of Ringmaster on the list.
HoN Puppet Master Skills:
It's possible that some, if not all, of Puppet Master's four abilities from Heroes of Newerth could find their way into Dota 2. In Heroes of Newerth, he had some unique skills. Puppeteer's Hold could immobilize and pull fleeing heroes towards a central point within an area of effect. 
Puppet Show enticed enemy units to attack friendly and nearby neutral targets. Whiplash granted him critical hits and splash damage potential every fourth strike. Finally, his Voodoo Doll ability allowed him to establish a connection with a specific target, with all damage inflicted on the doll being considered as magical damage in the original game.
The Ringmaster's Dota 2 Mastery
The only info we've got is what The Ringmaster's shared. It's safe to assume he's gonna be like a character who's all about fooling and tricking gamers. We're not sure if his tricks are just for fights or if they can be set off on their own. Even though gamers love his persona, we can only guess what he's really capable of until he's out in the game.
The trailer hints that Ringmaster can create monsters because it shows Axe chasing a clockwork Kobold. It also appears he has another skill that can disable, maybe like a stun, or more probably a taunt or a fear effect. The star of the trailer is the Iron Maiden, a medieval torture device used in modern illusionist tricks. The final word in the video implies that this is Ringmaster's ultimate move, which should deal damage and possibly capture heroes.
Who will Play the Next Hero in Dota 2?
The artwork shows a Ringmaster at a funfair. This poster pokes fun at various heroes, like the Monkey King, Kunkka, Axe, Mirana, and the Keeper of the Light. It doesn't give us much info. We're in need of a new melee hero after Muerta, who's a ranged intelligence carrier. Even though Ringmaster has those extendable mechanical arms, it looks like they'll mainly be a melee hero.
Similar to Chen or Enchantress, he possesses the ability to convert creeps.

The structures he summons are indestructible, and any harm to them leads to the hero's astral suffocation.

He has made a threat to annihilate the designated structure.
Puppet Master's Legacy Lives
Some folks who play Dota 2 have been saying that The Ringmaster reminds them of the Puppet Master from the old game Heroes of Newerth. They think the two characters have a similar vibe and playstyle. So, if Valve took some inspiration from Puppet Master, maybe The Ringmaster could tie up enemies, mess with them, and even summon a puppet to attack.
If you look at how they're designed, both Puppet Master and The Ringmaster seem to share some similarities. The Ringmaster looks like he's made of metal, almost like a puppet or a doll, and he's got this mysterious orb that might be the source of his powers. This suggests that The Ringmaster could bring not only fresh gameplay to Dota 2 but also a whole new look to the game.
Uncharted Territory: Life After the Ringmaster
The arrival of The Ringmaster in Dota 2 could open the door to the creation of circus-themed skins for other heroes. While it's not confirmed, the idea of a new game mode has sparked interest among players. Some players have even suggested the addition of a creepy circus-themed mode to Dota 2, which could give the game a fresh twist on its usual gameplay.
When The Ringmaster debuts in 2024, Dota 2 may undergo a transformation with a new theme and potentially game-changing features. The circus-themed abilities of The Ringmaster have the potential to shake up the Dota 2 meta, marking the beginning of an exciting new chapter in the game's rich and storied history.
Appearance of the Ringmaster
The circus theme's impact on Valve is crystal clear. The new hero will have the appearance of a circus ringleader, but their mechanical hands will perform some odd and possibly handy tricks. Ringmaster's design is all about that puppet-like, mechanical vibe, and you can spot it right away. He looks more like a wind-up toy than anything else, with that keyhole in his neck. It appears that the hero's superhuman powers stem from the orb he's clutching in the artwork.
The gaming world is buzzing about the new hero in Dota 2 at TI 12, known as The Ringmaster. Despite having limited details available, this hero, inspired by the circus, is the talk of the town. People are excited about the potential for game-changing abilities that might involve trickery and trapping opponents, much like the Puppet Master from Heroes of Newerth. The character's appearance, resembling a mechanical puppet holding a powerful orb, hints at a unique visual style. 
The arrival of The Ringmaster could also mean we'll see circus-themed outfits for other heroes and maybe even a circus-themed game mode. With a scheduled release in 2024 and the tagline "No hero is safe," gamers are eagerly awaiting The Ringmaster's debut. They can't wait to see how this melee character will shake up Dota 2 and add an exciting new dimension to the game's legendary saga.